EDIT MAIN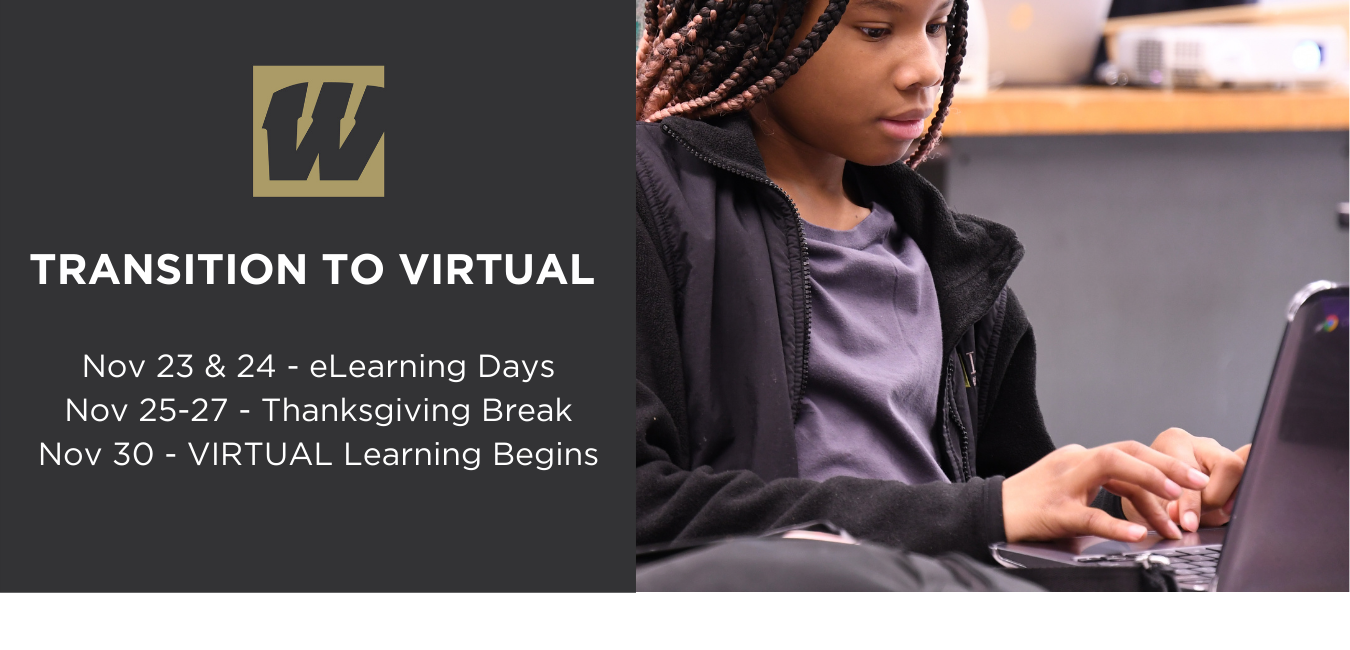 **This page will be updated as more information becomes available. Please check back frequently.
Based on the guidance provided by the Marion County Public Health Department and the challenges presented due to COVID-19, all MSD Warren Township schools will begin VIRTUAL instruction on Monday, November 23, 2020. Our students will remain VIRTUAL until Friday, January 15, 2021, with a tentative return to our current models on Tuesday, January 19.
Monday, November 23, and Tuesday, November 24 will be eLearning days or asynchronous days, meaning students will have more flexibility in completing their school work. Teachers will be available during a three-hour window for support and communication. Monday, November 30 will begin our VIRTUAL learning or synchronous learning, meaning students will follow their given schedule.
HOW DOES THIS IMPACT MY CHILD?
If your child is currently VIRTUAL (Grades K-12), your child's student experience will remain the same.
If your child is currently IN-PERSON (Grades K-5) or HYBRID (Grades 6-12), your child will now receive instruction through Zoom and Canvas.
GRADES K-4
Students (Grades K-4) will continue to follow a daily schedule. Students will log in to their Canvas accounts to get specific information from their classroom teacher. Teachers will send home a more detailed schedule with students by November 20.
GRADE 5
Students (Grade 5) will continue to follow a daily schedule. Teachers will send home a detailed schedule with students by November 20.
GRADES 6-8
Students (Grades 6-8) will continue to follow a Black/Gold schedule. Core Connect teachers will send home schedules with students by November 20.
GRADES 9-12
Students (Grades 9-12) will receive their instruction through Zoom and Canvas with their current teachers. A detailed schedule will be communicated by November 20.
WALKER CAREER CENTER
The Walker Career Center has been granted permission to continue operating many of its 2-4 hour programs under the current hybrid structure for the foreseeable future to ensure students will have enough hands-on time to meet industry certifications and dual credit requirements. Safety precautions will remain in place across our campus. Students will receive detailed from program instructors by November 20.
TECHNOLOGY
Each student will be sent home with a device and charger. Grades K-4 use iPads, while Grades 5-12 use Chromebooks.
INTERNET ACCESS
One of our priorities will be to make sure that every student has a device and has access to reliable internet. Submit a request for a Wi-Fi hotspot here (one per family please). Once your request is processed, the hotspot will be delivered to your student's school where you may pick it up.
Find instructions on how to use the Wi-Fi hotspot here.
TECHNOLOGY HELP DESK
If you need support with your device because it is not working or has been damaged, you can visit the help desk at Moorhead Community Resource Center at 8400 E. 10th Street, in the back of the building, from 10:00 a.m.- 2:00 p.m. Monday through Friday or click here to submit a request.
Categories include:
Broken device
Cannot connect to WiFi
Missing charger
New virtual student device request
Parent account or password issue
Student account or password issue
SUPPLIES/BOOKS
Supplies and books will be sent home by November 20.
CHILDCARE
Warren is partnering with the Ransburg YMCA to provide our families with YMCA ELEARNING CARE at Brookview Elementary. Students, ages 5-14, are eligible to participate in this program from 6:30 AM - 6:00 PM during the VIRTUAL window. For more information including the cost, click here or visit INDYMCA.org/YouthDevelopment
FOOD OUTREACH
Warren is partnering with our food service vendor, Chartwells, to provide meals to all students. Food distribution will take place on Tuesdays and Fridays from 4:00 - 6:00 PM at Warren Central High School, Creston, Raymond Park, Stonybrook, and Moorhead Community Resource Center.
Tuesday distributions will consist of 4 breakfast meals, four lunch meals, and three supper meals. Friday distributions will consist of three breakfast meals, three lunch meals, and two supper meals. Menus can be found at https://warren.nutrislice.com/menus-eula
Parent & Caregiver Resources
Check out our Parent & Caregiver Resource page for resources and tutorials on Canvas, ParentVUE, Seesaw, and more must-haves to support your child's virtual learning, all in one place!
SCHOOL COUNSELORS
Every Warren Township school has a counselor who is available to support your child. If you have a concern about your child's academics or social/emotional health needs, please contact the counselor at your child's home school. Contact information can be found on your child's home school website under the 'Explore' tab by clicking 'Staff'.
COMMUNITY OUTREACH HOTLINE
If you have a hardship or need support, please contact our Community Outreach Hotline at (317) 608-0545 or MSDWarrenOutreach@warren.k12.in.us
MOORHEAD COMMUNITY RESOURCE CENTER
The Moorhead Community Resource Center (MCRC) will remain open during the VIRTUAL window and is committed to providing Warren Township families and students with programs and services in a safe, non-judgmental environment where families feel welcome and supported.
Hours: Monday, Wednesday, Friday 8:00 a.m.-4:00 p.m. and Tuesday, Thursday 8:00 a.m. - 8:00 p.m.
Main Line: (317) 532-3854
Address: 8400 E 10th Street, Indianapolis, IN 46219
Services
Support for Homeless Students and Families
Housing and Utility Support
Foster Care Support
Food & Clothing Pantry Services through Sonny Day
Nutritional Education
Mental Health Counseling for Individuals and Families
Registration Assistance for Health Insurance
Substance Abuse Education and Support Groups
Healthy Relationships Education
Latino Support Services
Mentoring Services
Employment Services
Tutoring Services
For more information about the Moorhead Community Resource Center, click here. If you have needs beyond what is being offered, please reach out to your child's home school or contact us through the Community Outreach hotline at 317-608-0545.
RESOURCES FOR CORONAVIRUS (COVID-19) INFORMATION
Marion County Department of Health Website - FAQS
Indiana State Department of Health Website
Center for Disease Control and Prevention Website
Coronavirus Disease 2019 Information for Travel